Optic LED Optic 8+ Dimmable COB LED Grow Light 500w (UV/IR) 3500K/5000K
SKU:
Optic LED Optic 8+ Dimmable COB LED Grow Light 500w (UV/IR) 3500K/5000K
Optic LED has now seamlessly integrated eight of CREE's largest most efficient COBs (XLAMP CXB-3590) with industry-leading glass optical projection lenses to give you unprecedented light penetration with the highest PPFD of any 500-watt lighting system.
The combination of these two technologies combined with a proprietary blend of 3-watt Osram LEDs will give you significantly improved grams per watt yield and significant increases in trichome density and quality.
Growing with the Optic 8+ you can expect to yield up to 2.5 pounds which is an incredible 2.25 grams per watt.
This fixture is ideal for vegging a 6' x 6' area or flowering a 4' x 4' to 5' x 5' area. 
Spectrum
The Optic 8+ spectrum ranges from 380nm to 780nm, covering the entire PAR spectrum + UV-A and near-infrared (far red). The additional green light helps increase photosynthesis deep in the leaves and inside the canopy. Far-red light, when combined with red light, has been proven to increase the rate of photosynthesis.
Spectrum on OPTIC 8+ @ Full Power - All 3 Dimmers @100%
Spectrum for VEG - VEG Dimmer @100% & Bloom Dimmer @10% - only the COBS on. VEG Dimmer controls the two 5000k COBs which gives you more blue light and two 3500k COBs.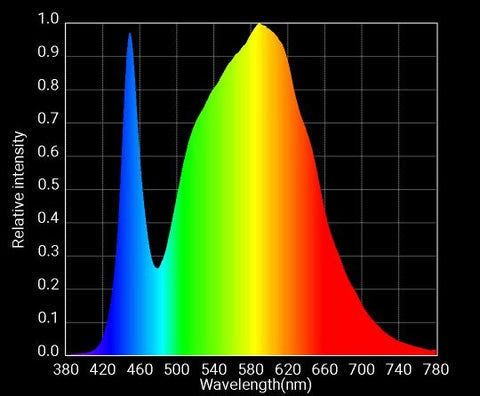 Spectrum of COBS only @ Full Power - Veg Dimmer @100%, Bloom Dimmer @100% & Bloom Enhancers Off. (Used in VEG & Flower)
Spectrum of Far Red Bloom Enhancers that include Ultra Violet & Infrared
PAR (PPFD reading in umol/m2/s at 24")
PAR (PPFD reading in umol/m2/s at 18")
 
Specs
Model/SKU: Optic 8+/op8+

Power output: 500 watts
HID equivalent: 1000 watt DE HPS
LEDs: CREE COBs & OSRAM secondary arrays
8 x CREE CXB3590 COB LEDs (132W max & driven 50W continuous)

6 x 3500k Daylight White COBs
2 x 5000k Cool White COBs 

32 x 3-watt OSRAM ultra-efficient LEDss with glass projection lenses
Optics: 90-degree or 120-degree optical projection lens directs light downwards, magnifies PAR and increases canopy penetration by up to 200%.
Drivers: Meanwell (Industry Best)
Spectrum: Full-spectrum + IR + UV  
PPF/Watt: : 2.0 umol/J
PAR Output: 1285 u/mols at center of footprint 
PPFD for 4x4 area @24" (90 degree Lens) : 678.46 umol/m2/s
(Apogee MQ-500 Used for PAR Meter Testing in 4x4 Grow Tent)
PAR Output: 1973 u/mols at center of footprint (120 degree Lens)
PPFD for 4x4 area @ 18" (120 degree Lens):
(Apogee MQ-500 Used for PAR Meter Testing in 4x4 Grow Tent) 
Average PPFD: 619.87 umol/m2/s
Recommended coverage area:
Veg: 6' x 6' @ 30" 

Flower: 4' x 4' @18"- 24" (1.2m x 1.2m)

or 5' x 5' (120 degree Lens) (1.5m x 1.5m)
Recommended hanging height:
Light Controls:
Dimmability: 3 Independent Dimmers
VEG: 4 COBS only, Controls two 5000K COBS & two 3500K COBs.
BLOOM: 4 COBs only, Controls four 3500K COBs.
BLOOM ENHANCER: 32 pcs 3W diodes, Controls UV & Osram secondary led array.
Switches:
Switch #1: ON/OFF
Switch #2: Bloom Enhancer
Proven Yield: Up to 2.67lbs / 42.72 ounces / 1,196 grams
Grams/watt yield: Up to 2.25
Thermal management: 9 x cooling fans, Aluminum heat-sinks
Dimensions: 27" x 27" x 4"
Weight: 36 lbs
Operating/Input Voltage: 100-265VAC
Amperage: 5-1.9 Amps
Product includes: 
Optic 8+ Grow Light
Ratchet straps
120V power cord (240v power cords available; we automatically ship the correct power cord for your country)
Recommended for:
Grow tents (4x4) (5x5) (8x8) (10x10) 
Grow rooms (all sizes)
Full-cycle growing from seedling to flower
Soil, hydroponic, aeroponic, or aquaponic systems
Manufacturer's Warranty: 10 year lifetime warranty
Life Expectancy: 10-13 Years 
Packaging: Plain brown discrete packaging with no labels.
You have added a Discontinued Item.
Please keep in mind the inventory quantity listed on discontinued items is not always accurate and these items may be out of stock at any time.
Certain items may not be supported by the manufacturer and warranties could be limited.
Contact Agron Customer Support for additional questions.
support@agron.io
877.812.4766